Do You Need LED for Rent?
VSTAR transparent LED display is an innovative technology allowing you to turn your window into a digital billboard, which is suitable for advertising all products and services. The integrated LED lamps are almost invisible from the outside of the building, thus making no difference to its appearance.the Glass window displays of digital signage provides 80% transparency which enables you to still be able to look through the glass window.
Glass Window Displays
The window displays convey an individual spirit and identity and should be eye-catching.
Transparent LED Displays should be simple and easy to understand. They should contain a few featured items rather than a sample of the store's entire stock.
The back of display windows should be kept open to allow the store's interior to be visible to passing pedestrians.
Consider utilizing art in glass window displays that tie into the image of the store.
80% transparency, backside visible.
Light-weight, individually removable and replaceable.
Quick & easy installation. Fast lock installation design, can fixed and remove screen quickly and easily.
Nice appearance. All power supplies and receiving cards are build into the panel, and cables can easily be connected.
Suitable for the shopping mall, hotels, 4S store, and other occasions.
Retail Glass Window Displays is an effective key to interact with the customers.
ITEM
G4
G5
G8
G10
Pixel Pitch
3.91×7.8
5.2×10.4
7.8×7.8
10.4×10.46
Pixel Density
32,768
16,384
9,216
4,096
Pixel Composition
3 IN 1 SMD
3 IN 1 SMD
3 IN 1 SMD
3 IN 1 SMD
Cabinet Size
500mmx500mm/1000Wx500H
500mmx500mm/1000Wx500H
500mmx500mm/1000Wx500H
500mmx500mm/1000Wx500H
Module Size
500×120
500×120
500×120
500×120
Cabinet Weight
6.4/14
6.4/14
6.4/14
6.4/14
Cabinet Resolution
256×64
192×48
128×64
96×48
Transparency rate
>70%
>70%
>70%
>80%
Driving Type
1/16
1/10
1/8
1/8
Max Power Consumption
400W/㎡
Ave. Power consumption
160W/㎡
Module Maintenance
Back access
Ingress Protection
IP22, not waterproof
Brightness
3000~5000
Refresh rate
1920/3840
Digital Processing
14
Gray Scale
16384
Colors
687
Color Temperature
5,500-9,300 Adjustable
Brightness Control
255
Contrast Ratio
2000:1
Viewing Angle H
140
Viewing Angle V
140
AC Speration
AC90~264
Storage Tem.
14 ~ 114F/-10C ~ +45C
Storage Humidity
10% ~ 80%
Operating Tem.
14F ~ 114F/-10C ~ +45C
Operating Humidity
10% ~ 85%
Lift time(50% brightness)
100,000
Installation Type
Fixed
Control Mode
Video Sync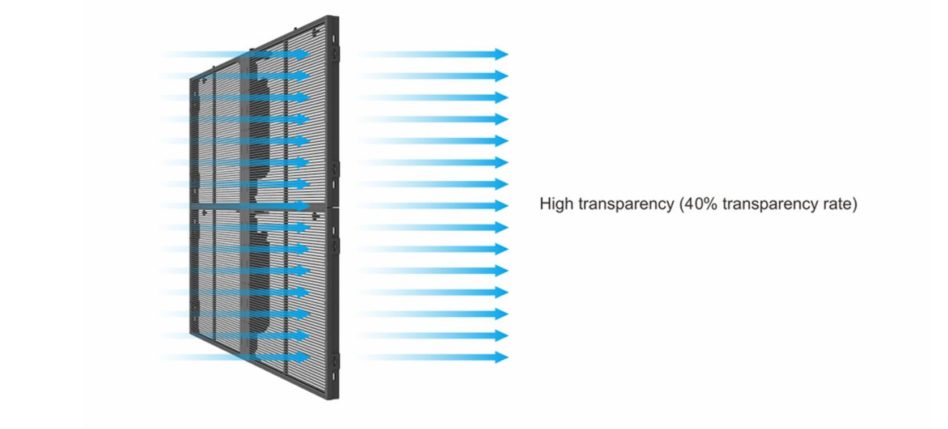 Please share your demands of our LED Displays and we will response your inquiries within 2 hours. Any interest or requirements, please send us detailed information below without hesitation.